Our Mission
Our mission at Cody & Sons is to be recognized as a leader in our industry by providing outstanding plumbing, heating, and air services to our family of customers. We let compassion, integrity, and respect guide our company, and always exceed our customers' expectations by providing outstanding problem solving and reliability. We maintain a Team Cody & Sons concept, and always look for ways to improve by providing our team with the training and tools to allow them to give their best as they pursue this rewarding, yet challenging career.
What Your Neighbors Are Saying
Cody and Sons Plumbing and HVAC are responsive, courteous, timely and provide excellent service. I have used them multiple times for plumbing and now they are taking care of my HVAC. I was so impressed that I have now purchased their HVAC and Plumbing plans Member Value Plans (MVP) which will save me money and headaches in the long run for my 90 year old house and my rental condo.
-Jacquelyn S.
We use Cody and Sons regularly and they are awesome. Everyone is super nice and professional. Always arrive on time. Will continue to use them in the future!
-Rick M.
Trevor with Cody & Sons came out and fixed my tankless water heater. He finished the work quickly and efficiently, cleaning the burner assembly, and the heater is back to normal! Great work! Also, all of the scheduling with the office was smooth, with plenty of updates
-Adam T.
Another company tried to sell me on a many-thousand-dollar replacement of an entire AC unit. Cody & Sons was able to repair my unit for a fraction of the price. These guys are honest and good at their job. I will use them again.
-Ben T.

Open 24/7 Call Now

(469) 225-9527
History of the Company
Bill Cody & Sons Plumbing Company was formed in 1969 by Bill Cody. The company consisted of Bill and wife Shirley who answered the phones. At that time, his sons Steve, Randy and Gary were 8, 12, and 13 years old. All three sons grew up working with their dad on the weekends and summers until after graduating high school and joining the company full time. Bill and Shirley retired in 1999. Today, Randy continues the family business with his son Phillip, a third generation plumber and his team of plumbing experts. After nearly 50 years doing business in residential plumbing  in Dallas they must be doing something right.
Something Extra!
After 45 years of delivering outstanding service to our great customer base we decided in 2014 to add a Heating and Air Conditioning division. Our Heating and Air division is headed up by Tony Shepherd. Tony is a fantastic addition to our company. Tony has over 14 years' experience and holds an Associates of Applied Science in residential Air since 2005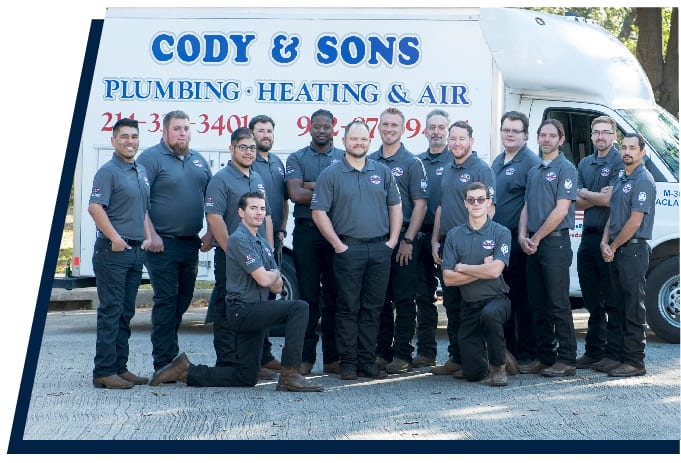 Our Guarantees
Upfront Pricing Guarantee
We Value
Your Home Guarantee
We Value
Your Safety Guarantee
We Value
Your Time Guarantee
We Value
Your Satisfaction Guarantee

Open 24/7 Call Now

(469) 225-9527