Dallas AC Maintenance
Much like how cars need regular upkeep to make sure they work well and last long, AC systems need the same kind of care. It is important to have air conditioning maintenance and tune ups done on a regular basis, so that your HVAC system can keep operating optimally and efficiently. At Cody & Sons Plumbing, Heating & Air, we offer quality AC service in Dallas where we take care of all the efforts for property owners, so they can have peace of mind that their cooling system is in good condition.
Trusted AC Maintenance Dallas
Has it been a while since you had a Dallas air conditioning expert look at your system? Homeowners have a lot to worry about as it is, so we believe the state of their HVAC shouldn't be one of them. We've provided AC repair in Dallas, tuneups, and AC installation for thousands of AC units over the last 50 years, and we are confident our AC maintenance in Dallas can keep your air conditioner running well for the next several years to come. Call us to perform your AC inspection and air conditioning maintenance so you know your unit will withstand the intense summer heat.
Importance of Air Conditioning Tune Ups & AC Maintenance in Dallas
It is important to have your AC unit checked out by a trained professional from time to time to see what the status of the system is. It could be that there is something wrong with it or it is dirty, and these things can lower the appliance's efficiency and cause your energy bills to increase. Our team of Dallas air conditioning technicians can come once or twice a year to your place and examine the AC. By catching things before they become a major issue, we can save you from future hassles. Read more about the importance and benefits of AC maintenance!
What Your Neighbors Are Saying
Cody and Sons Plumbing and HVAC are responsive, courteous, timely and provide excellent service. I have used them multiple times for plumbing and now they are taking care of my HVAC. I was so impressed that I have now purchased their HVAC and Plumbing plans Member Value Plans (MVP) which will save me money and headaches in the long run for my 90 year old house and my rental condo.
-Jacquelyn S.
We use Cody and Sons regularly and they are awesome. Everyone is super nice and professional. Always arrive on time. Will continue to use them in the future!
-Rick M.
Trevor with Cody & Sons came out and fixed my tankless water heater. He finished the work quickly and efficiently, cleaning the burner assembly, and the heater is back to normal! Great work! Also, all of the scheduling with the office was smooth, with plenty of updates
-Adam T.
Another company tried to sell me on a many-thousand-dollar replacement of an entire AC unit. Cody & Sons was able to repair my unit for a fraction of the price. These guys are honest and good at their job. I will use them again.
-Ben T.

Open 24/7 Call Now

(469) 225-9527
AC Maintenance Dallas
Allow us to do routine AC maintenance in Dallas that will keep your cooling system in tip-top shape. The Cody & Sons team can clean the coils, change the filter, and check on refrigerant levels. By keeping on top of these things, we can assure you that your cooling system is going to work well whenever you need its comfort. You can count on our Dallas air conditioning company for regular AC maintenance whenever you need us!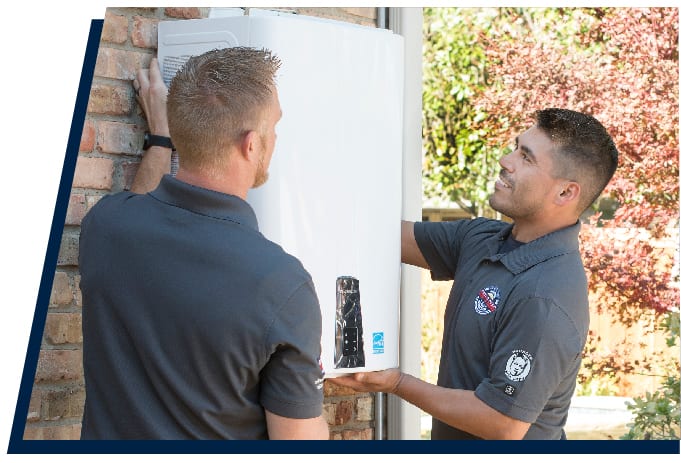 Our Guarantees
Upfront Pricing Guarantee
We Value
Your Home Guarantee
We Value
Your Safety Guarantee
We Value
Your Time Guarantee
We Value
Your Satisfaction Guarantee

Open 24/7 Call Now

(469) 225-9527