Drain Cleaning Services
If clogged drains have you down, call your local plumbing company at Cody & Sons to get them taken care of quickly and efficiently. We'll make sure that clog is gone before we declare your Dallas drain cleaning complete. Rely on us to get out even the toughest clogs and to work hard until the job is done.
When you need fast, friendly, reliable drain cleaning, we'll be there for you! Just give us a call and an experienced Dallas plumber will be on his way soon. Before you know it, your drains will be working again and you won't have to worry about your plumbing anymore.
Dallas Drain Cleaning
No matter what you need when it comes to drain cleaning in Dallas, we have you covered. Our plumbers will remove any clog, be it big or small. They'll work on your indoor drains, your outdoor drains, and even on your sewer drains.
We have a variety of drain cleaning methods at our disposal. We'll make sure that we use a method that will be effective on your clog and safe for your pipes, no matter how old or fragile they might be. Call us today to get rid of your clogged drains so you can get back to focusing on the things you love!
Utilizing a Plumbing Snake to Clean Your Drains
Most of the time, we'll use a professional-grade plumbing snake to get rid of your clogs. This flexible metal cable can be threaded down your drain and through your pipes until it reaches the clog. At that point, your plumber will either pull the clog out using a hook on the snake or break it up so it can continue flowing down the line.
Our plumbing snakes are tougher than those you can rent at the hardware store so you won't have to worry about them getting stuck in your pipe. Our Dallas plumbers are also experts at wielding them so they have the experience necessary to get your clogs out without encountering any problems along the way.
What Your Neighbors Are Saying
Cody and Sons Plumbing and HVAC are responsive, courteous, timely and provide excellent service. I have used them multiple times for plumbing and now they are taking care of my HVAC. I was so impressed that I have now purchased their HVAC and Plumbing plans Member Value Plans (MVP) which will save me money and headaches in the long run for my 90 year old house and my rental condo.
-Jacquelyn S.
We use Cody and Sons regularly and they are awesome. Everyone is super nice and professional. Always arrive on time. Will continue to use them in the future!
-Rick M.
Trevor with Cody & Sons came out and fixed my tankless water heater. He finished the work quickly and efficiently, cleaning the burner assembly, and the heater is back to normal! Great work! Also, all of the scheduling with the office was smooth, with plenty of updates
-Adam T.
Another company tried to sell me on a many-thousand-dollar replacement of an entire AC unit. Cody & Sons was able to repair my unit for a fraction of the price. These guys are honest and good at their job. I will use them again.
-Ben T.

Open 24/7 Call Now

(469) 225-9527
Our Drain Cleaning Process
When you call us for  your Dallas drain cleaning, we'll match your needs with the skills of a plumber who can get to you fast. We'll make sure we find an appointment time that's convenient for you, then show up on time.
Every visit starts with a conversation. We want to know exactly what you've been experiencing with your drains. Once we have a full understanding of the situation, we'll get to work. We'll find that clog, determine where it is and the best way to remove it, and get the job done as quickly as we can. 
When you need drain cleaning services, your local plumber from Cody & Sons will get to you quickly and solve your problem fast. Stop worrying about your drains and call us today! Before you know it, that annoying clog will be gone and you won't ever have to think about it again. Make your appointment now!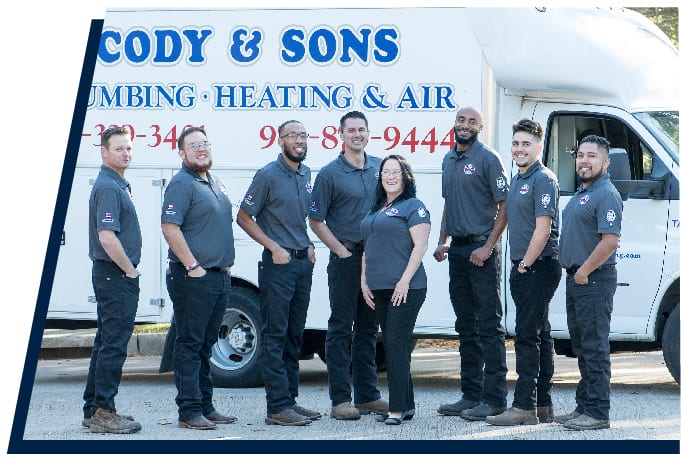 Our Guarantees
Upfront Pricing Guarantee
We Value
Your Home Guarantee
We Value
Your Safety Guarantee
We Value
Your Time Guarantee
We Value
Your Satisfaction Guarantee

Open 24/7 Call Now

(469) 225-9527