Is it time to get a new water heater? Maybe you called us at Cody & Sons for water heater repair in Dallas, TX and we have told you that we think your best bet is to invest in a new unit. Or maybe you are tired of dealing with an old water heater and you want the latest technology. No matter your reason for getting a new water heater, we'll help give you a great experience all the way through the process. 
How Do I Know if I Need a New Water Heater?
Not sure if it's time for a new water heater in Dallas, TX? Here are some signs that you should at least consider replacing your older unit with a new one.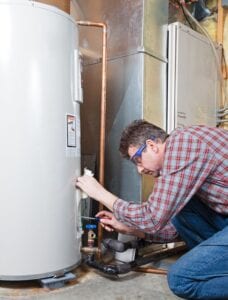 You need a water heater repair in Dallas, TX that costs more than a new heater would. Since water heaters are relatively low-ticket items, it's often a better idea to replace yours than it is to pay for an expensive repair.
Your water heater is old. If your current water heater is more than 10 years old, you may want to replace it rather than repair it. In fact, you may want to replace it even if it's not having problems just to avoid the hassle that comes when you lose all of your hot water.
You want a different type of water heater. Have you been thinking about replacing your conventional water heater with a tankless water heater? Now might be the right time for you and your family to take that step.
You want to save money on hot water. If your old water heater isn't working efficiently, it might be time to upgrade to a more energy-efficient model. We can help you find one that may lower your bills each month!
Choosing the Best Water Heater for Your Home
Once you decide to get a new water heater, make sure you contact our experts. They will help match your needs with one of the amazing, reliable water heaters that we have in stock. The matching process includes considering the following factors:

The type of water heater you want. Do you want a tankless water heater or a conventional one? Do you prefer to use gas or electricity to run it?
How big your house is. Larger houses often need larger water heaters.
How many people live in your house. If you have a lot of people showering at the same time, you'll want a larger water heater.
Your water usage patterns. Do you often need hot water for several appliances at once or do you tend to run them one at a time?
When we know what you're looking for, we'll match you with a water heater that will work well in your home and last for years to come. We can install it, too, and we'll always test it before we leave, just to make sure everything is working well!

Call us at Cody & Sons today for help getting a new water heater in Dallas, TX!