AC Repair Dallas
Looking For Air Conditioning Repairs in Dallas? We Can Help!
Schedule Now
AC Repair Dallas
The team at Cody & Sons can get you professional AC repairs in Dallas when you are experiencing an issue with your cooling system! We'll send out an air conditioning technician to your property to quickly figure out what the problem is, and get started on your Dallas AC repair right away. As a family-owned business with more than 50 years of serving local property owners, we are the Dallas air conditioning company to contact when you need AC repair or any other help with your HVAC system.
We've provided AC repair in Dallas for more than 50 years, so you can trust that the technician that shows up at your home or business is an expert who has been extensively trained and will be able to get your Dallas air conditioning back on again. With the intense heat that we get here in the Dallas area, a quick and reliable response is crucial – and you can count on Cody & Sons to provide you with one when you call for your Dallas AC repair.
Fast and Easy AC Repair Dallas & DFW
As soon as you realize that something is amiss with your Dallas air conditioning, reach out to us. We will show up on time and with a fully stocked truck, ready to get everything repaired as quickly as we can so that you are minimally inconvenienced. Our Dallas AC repair team will not leave your property until we are sure everything is remediated and working correctly again.
Fair Pricing for Air Conditioning Repairs in Dallas
Unlike other Dallas air conditioning companies that may try to push extra services, we never upsell anything and always offer a fair assessment of what needs to be done. We offer free estimates for what your AC repair in Dallas will cost if we can visually inspect and diagnose the issue, or charge a small fee if we need to use equipment or machinery to see what's going on. That charge is applied to the cost of the air conditioning repair service if you decide to go with our estimate.
What Your Neighbors Are Saying
Cody and Sons Plumbing and HVAC are responsive, courteous, timely and provide excellent service. I have used them multiple times for plumbing and now they are taking care of my HVAC. I was so impressed that I have now purchased their HVAC and Plumbing plans Member Value Plans (MVP) which will save me money and headaches in the long run for my 90 year old house and my rental condo.
-Jacquelyn S.
We use Cody and Sons regularly and they are awesome. Everyone is super nice and professional. Always arrive on time. Will continue to use them in the future!
-Rick M.
Trevor with Cody & Sons came out and fixed my tankless water heater. He finished the work quickly and efficiently, cleaning the burner assembly, and the heater is back to normal! Great work! Also, all of the scheduling with the office was smooth, with plenty of updates
-Adam T.
Another company tried to sell me on a many-thousand-dollar replacement of an entire AC unit. Cody & Sons was able to repair my unit for a fraction of the price. These guys are honest and good at their job. I will use them again.
-Ben T.

Open 24/7 Call Now

(469) 225-9527
Call For Dallas AC Repairs Today!
Turn to Cody & Sons Plumbing, Heating & Air when you are searching for professionals to fix your malfunctioning AC unit. We bring honesty, integrity, and more than 50 years in business to all of our jobs in Dallas. Whether you need Dallas air conditioning repair, maintenance, or a new AC unit installed, we'll send out an expert air conditioning technician to your property in Dallas to address and resolve any AC services you may need. Reach out to us if you need help with your cooling system!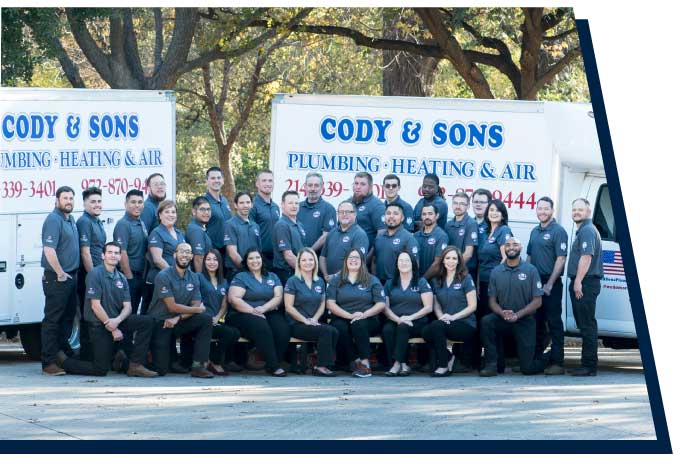 Our Guarantees
Upfront Pricing Guarantee
We Value
Your Home Guarantee
We Value
Your Safety Guarantee
We Value
Your Time Guarantee
We Value
Your Satisfaction Guarantee

Open 24/7 Call Now

(469) 225-9527