Now Accepting Nominations
Cody & Sons donates HVAC equipment annually to a charity of our choice, but this year we need your help! We're hosting a contest to help us find the most deserving person or family in need of a complete heating and cooling system replacement. Let us know who you nominate and why they are the most deserving of this opportunity for the 2022 holiday season.
As Comfort Care Dealers in partnership with American Standard Air, we have the opportunity to donate quality American Standard Air equipment, which ranks highest in homeowner satisfaction. Submit your 1-2 page letter via email by November 23rd — you can reply here or send to robin@codyandsons.com. If you've been meaning to call us anyway, give us a call for more details! You'll be crossing an item off your to-do list and contributing to a very worthy cause. Win-win!
Contest rules: Submissions due by 11/23/2022. Leadership team will vote to select the winner. Submit letters to robin@codyandsons.com or info@codyandsons.com. Letter should be 900 words max, 300 word min. We will contact the winner prior to the end of November for a home inspection so we can order equipment by end of November. We will install system and promote their story in December. Employees and immediate family are not eligible. Must be residential customers located in Cody & Sons service area. Must be owners of the property. Crane rental not included. Some additional exclusions may apply.
What Your Neighbors Are Saying
Cody and Sons Plumbing and HVAC are responsive, courteous, timely and provide excellent service. I have used them multiple times for plumbing and now they are taking care of my HVAC. I was so impressed that I have now purchased their HVAC and Plumbing plans Member Value Plans (MVP) which will save me money and headaches in the long run for my 90 year old house and my rental condo.
-Jacquelyn S.
We use Cody and Sons regularly and they are awesome. Everyone is super nice and professional. Always arrive on time. Will continue to use them in the future!
-Rick M.
Trevor with Cody & Sons came out and fixed my tankless water heater. He finished the work quickly and efficiently, cleaning the burner assembly, and the heater is back to normal! Great work! Also, all of the scheduling with the office was smooth, with plenty of updates
-Adam T.
Another company tried to sell me on a many-thousand-dollar replacement of an entire AC unit. Cody & Sons was able to repair my unit for a fraction of the price. These guys are honest and good at their job. I will use them again.
-Ben T.

Open 24/7 Call Now

(469) 225-9527
Contest Rules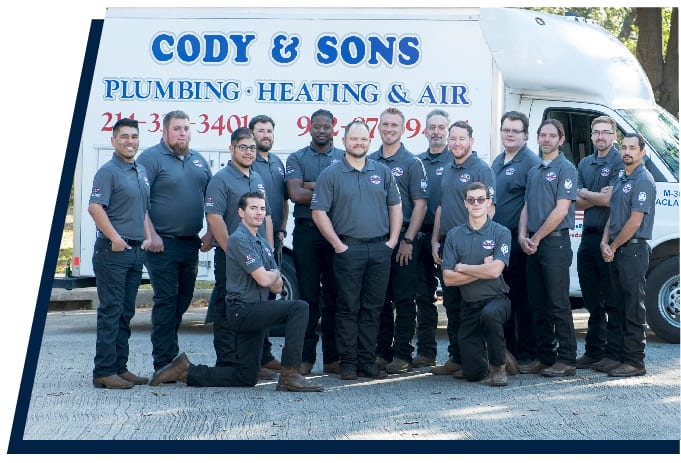 Our Guarantees
Upfront Pricing Guarantee
We Value
Your Home Guarantee
We Value
Your Safety Guarantee
We Value
Your Time Guarantee
We Value
Your Satisfaction Guarantee

Open 24/7 Call Now

(469) 225-9527