When we fill a glass from the kitchen tap, we often take for granted the purity of the water we're about to drink. But what if the water that flows from our faucets is not as clean as we believe it to be? At Cody & Sons Plumbing, Heating & Air, we're committed to illuminating the often-overlooked truths about Dallas water quality and providing solutions to ensure your family's health and safety.

Call Us 24/7

(469) 672-5403
The Surprising Reality of Tap Water Contaminants
You might be surprised to learn that the water running through your pipes could contain various contaminants. Although your local water supply may meet federal standards, "legal" does not necessarily mean "safe." Federal regulations on water quality have not been updated in nearly two decades, leaving room for water that passes legal tests but may not meet the latest health guidelines.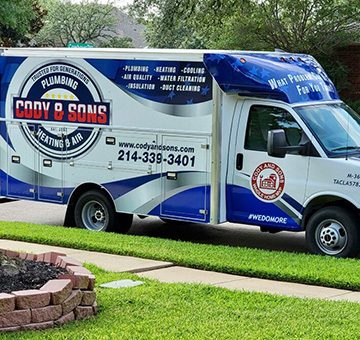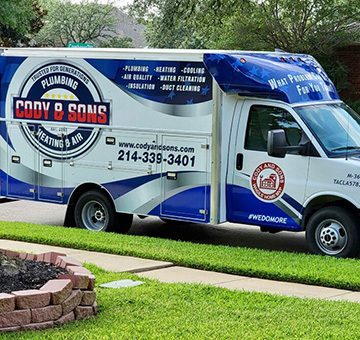 A startling array of pollutants such as chlorine, lead, pesticides, and even pharmaceutical residues can make their way into our water system. The environmental impact, coupled with outdated infrastructure, can lead to water that is less than ideal for consumption.
How Can You Uncover What's in Your Water?
Knowledge is power, and knowing exactly what's in your water is the first step toward improving its quality. With a detailed water quality report by zip code, provided by your Dallas plumbers from Cody & Sons, you can reveal the specific contaminants present in your local water supply. Alternatively, you can visit EWG's Tap Water Database to see a general report for your area. Prepare to be shocked; what you find may compel you to take immediate action.
Protecting Your Family with Advanced Filtration
To combat the issue of contaminated water, we offer a sophisticated solution: the Halo Whole Home Water Filtration system. These systems are designed to eliminate contaminants and provide you with peace of mind, knowing that the water in your home is filtered and safe for every use—from drinking to bathing. Learn more about these systems at Halo Water Filtration Solutions.
Cody & Sons' Courtesy Safety Health Inspection
We go beyond just highlighting problems—we offer comprehensive solutions. That's why our Dallas plumbing experts are now offering a complimentary Safety Health Inspection, which includes:
A detailed water quality report tailored to your home, based on your zip code.
A professional check of your home's water pressure, avoiding both inefficiency and potential pipe damage.
An assessment of your water heater, with statistics and lifespan expectations.
A thorough AC System Status evaluation, to keep your home comfortable and energy-efficient.
Ensuring your home is equipped with functional carbon monoxide detectors, a vital safety measure.
And customized health and safety recommendations to address your home's unique needs.
Why Choose Cody & Sons?
At Cody & Sons Plumbing, Heating & Air, we understand the importance of a safe and healthy home environment. Our dedicated team of professionals is committed to providing not just services, but solutions that contribute to your overall well being. Water is essential to life, and we believe it should be nothing but the best. With our water quality improvements and comprehensive safety checks, you can trust that the heart of your home is in good hands.
Don't settle for water that just meets the legal standards. Choose water that meets the Cody & Sons standard—pure, safe, and refreshing. Contact us today to schedule your Safety Health Inspection and take the first step toward exceptional water quality in your home.

Call Us 24/7

(469) 672-5403