Nowadays, workers are valuing stability and development above other benefits when considering their career. Working in the trades provides job security and opportunities for advancement. It's never too late to switch to a more rewarding career path. Learn how you can become a plumber in Texas.
"We have 7.3 million open jobs right now, most of which don't require a four-year degree," said Mike Rowe, well-known for his show Dirty Jobs, in an interview with Jeffrey Roberts of Family Handyman. "They require training, they require skill and they require a willingness to master a trade that's in demand."
Companies currently hiring tradesmen are having a hard time finding applicants in today's job market. There has been a significant decline in how many young people are seeking a career in the trades. Consequently, the demand for workers in trade jobs is skyrocketing (which means higher pay and better benefits).
This is a great opportunity for people who feel a fast-paced, hands-on work experience might be right for them. You can start developing a career with no college experience required. Here's how:
Different Types of Licenses
Firstly, there are four different types of plumbing licenses: Tradesman Plumber Limited, Journeyman, Master, and Plumbing Inspector. In this post, we will talk about how to become an apprentice. Then, we will discuss how to earn a Tradesman Plumber Limited License.
Be At Least 16 Years of Age
Before getting licensed, you will become an apprentice. You only need to be 16 years of age in order to apply as a Plumber's Apprentice in Texas.
Submit Completed Application With Fee
Secondly, submit the Plumbers Apprentice Registration Application and a $15 fee to the TSBPE. This is a 3-page application form on the Texas State Board of Plumbing Examiners website.
Learn & Assist Under A Licensed Plumber
Once registered as a Plumber's Apprentice, you will begin working under the direct supervision of a licensed plumber. Don't be afraid to start applying for entry-level positions. At Cody & Sons, we are always looking for outgoing, problem-solvers who aren't afraid to learn new things.
Complete Required Hours
Then, earn 4,000 hours of work experience. Remember, you must be registered as an apprentice before you can start counting hours. Earning hours towards a license can be a productive way for many young people to spend their summer breaks.
Complete 24-hour Training Course
Next, you will complete a 24-hour TSBPE-approved training course. Another option is to be enrolled in and/or have completed a training program approved by the United States Department of Labor Office of Apprenticeship.
Get Certified
Finally, apply for the Tradesman Plumber-Limited Examination. Submit the application with all supporting documentation, Employer Certification Form(s), and a $36 fee to the TSBPE. If you have been convicted of a felony, submit a Supplemental Criminal History Information Form
After successfully completing the exam, you will pay $35 to receive your license and pocket holder.
Apply At Cody & Sons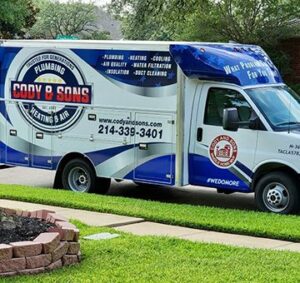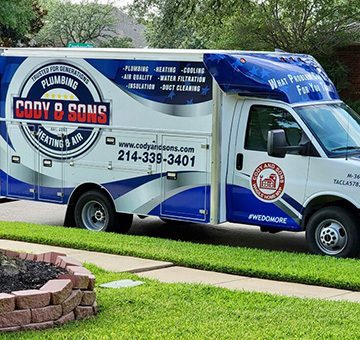 Check out our Careers page if you're interested in becoming a plumber in Dallas. We are looking for candidates dedicated to personal and professional growth. We provide ongoing training and education in their field in an effort to assist our employees in professional development.
Visit here for more information on how you can become an HVAC technician in Texas with Service Titan.