Heater Won't Work

Heater Air Isn't Hot

I Need A New Heater

Heater Not Working?
If your heater won't turn on, it's easy to feel frustrated. Nobody wants to be too cold in their home, or risk having pipes freeze, or worse. Allow the experts at Cody & Sons to help. We'll get your heater fixed up in no time. Contact us today.
Heater Not Blowing Hot Air?
Is your heater blowing cold air? Even if the air coming out of your heater is warmer than the air in your home, a heater that isn't as hot as it used to be indicates and issue that you should have looked at. Not only are you probably paying more money for less heat, but you may also be wasting gas! Call us immediately and we'll send out a heating technician to get your issue diagnosed and repaired in no time.
Need a New Heating System?
If it's time to replace your heating system, you want to get the very best heater for your home. Newer heating systems tend to be more efficient than older systems, which can save you money on your heating bill in the long run. Contact the Plano heating experts at Cody & sons today and we'll work with you to get the right heating system for your home.
Heating Services in Plano, TX
You are usually most satisfied in a warm, cozy home in the fall and winter months. Our goal is customer satisfaction, and we want to ensure your peace of mind by providing you with friendly,  knowledgeable, and competent staff in all areas of home comfort. Gas-fired furnaces, electric air handlers, and air/water source heat pumps are just some of the ways your Plano home can be heated. We also offer the latest in ductless systems from American Standard, which allow you to completely customize your system to you and your home's needs. We specialize in heating installation and repair in Plano.
It is very important for any of these heating systems to be properly installed and maintained. This is where our expertise and more than 50 years of experience comes in and allows us to solve all your heating problems. We service all makes and models!
What Your Neighbors Are Saying
Cody and Sons Plumbing and HVAC are responsive, courteous, timely and provide excellent service. I have used them multiple times for plumbing and now they are taking care of my HVAC. I was so impressed that I have now purchased their HVAC and Plumbing plans Member Value Plans (MVP) which will save me money and headaches in the long run for my 90 year old house and my rental condo.
-Jacquelyn S.
We use Cody and Sons regularly and they are awesome. Everyone is super nice and professional. Always arrive on time. Will continue to use them in the future!
-Rick M.
Trevor with Cody & Sons came out and fixed my tankless water heater. He finished the work quickly and efficiently, cleaning the burner assembly, and the heater is back to normal! Great work! Also, all of the scheduling with the office was smooth, with plenty of updates
-Adam T.
Another company tried to sell me on a many-thousand-dollar replacement of an entire AC unit. Cody & Sons was able to repair my unit for a fraction of the price. These guys are honest and good at their job. I will use them again.
-Ben T.

Open 24/7 Call Now

(469) 225-9527
Heating Repairs in Plano, TX
At the very first signs of an issue with your heater, contact the Cody & Sons heating team for help. We offer professional assistance for property owners in Plano who need an expert to take a look at their system and see why it is acting up or not turning on at all. No matter what the problem is, we are sure to get it figured out and fixed – fast.
Heating Systems at Plano Properties
Our team is familiar with many different kinds of heating system setups, so we can serve you regardless of the kind of heating system that keeps your place warm. From conventional systems like furnaces to more modern kinds like electric air handlers, heat pumps, and ductless systems, we are able to perform heating repairs on them all.
When you call us to come out for your heating repair in Plano, you can expect a quick response and an industry professional to show up at your door. The Cody & Sons heating team works efficiently to diagnose any issues and then come up with a plan for repairing them. It is our priority to get everything back up and running again as soon as possible so that you can enjoy the warmth.
Top Heating Repair Company
With 50 years in business, you can feel confident in hiring our team to take care of your heating repair needs. We show up on time and are professional in all our processes and are sure to be respectful of your property. The home and business owners who hire us in Plano know they will receive honest pricing and quality craftsmanship from the Cody & Sons crew.
Need Heating Repairs in Plano?
Reach out to the heating team on our staff when you are having problems with your system. A Cody & Sons heating technician will come out to your place and perform heating repairs in Plano. We'll get you and your home warmed up in no time!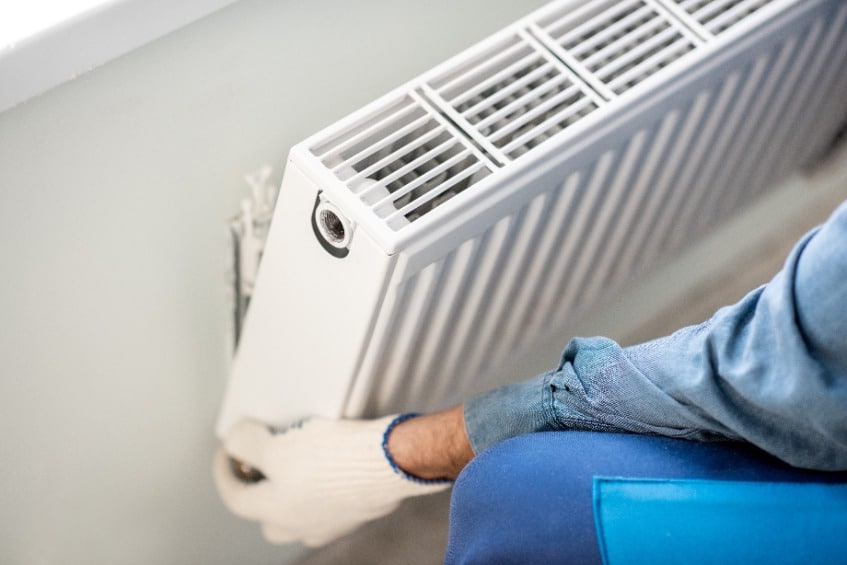 Plano Heating Installation
Are you in search of a trusted Heating company in Plano to get your place equipped with a new heater? Cody & Sons has technicians who are skilled and capable of getting you exactly what you envision regarding a comfort system for your home or business. We are dedicated to keeping you warm and cozy, so give us a call when you find yourself needing heating installation services in Plano.
It seems like your heat always goes out at the most inopportune time, for example when company is in town, but that's what we're here for! Our trucks are stocked and prepared for onsite repair to get your heat operating quickly. Our expert heating technicians will handle your Plano heating repair on all makes and models. We carry American Standard equipment because of its high quality and reliability.
We offer financing as an option for major installations, replacements, and repairs through FTL Finance. Or you can check out  AMS Financial to see if you qualify for zero interest financing options.
Is It Time For Heating Replacement?
If your current heater is old or if it is constantly having issues and requiring repairs, replacing it may be a wise decision. Having a new heater installed may end up being a more cost and energy effective choice in the long run. Our Plano heating technicians can take an in-depth look at your system and let you know if this is the case, and then would be happy to take care of your Plano heating installation process.
Heating Installation Experts
We are here to assist you throughout the entire process of getting a new heater put in. Our Plano heating experts can provide you with details on all the different kinds of models and types of heating systems, from furnaces and heat pumps to electric air handlers and ductless systems. Together we can come up with the best option to fit your needs and the specifics of your property in Plano.
Cost-Effective Heater Installation
Our heating installation services in Plano are priced fairly and can be financed. We can provide you with upfront pricing so you are aware of what everything is going to cost, and go over the prices of the different kinds of heat sources. And since you have our professional technicians installing your new heating system, you can trust that it will last long and work well for years to come.
Plano's Heating Installation Pros
Cody & Sons is the company to call when you need to have a new heater put in at your property in Plano. Our heating team is professional, honest, and will make sure that you are adequately warmed before we call a job complete. Contact us to schedule your Plano heating installation today!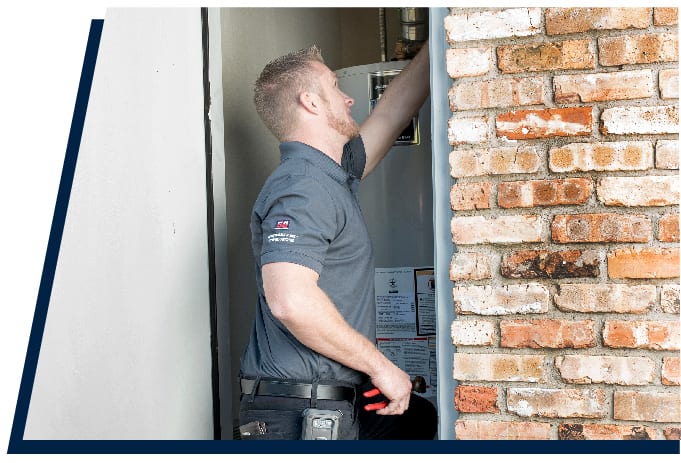 Heating Maintenance and Tune Ups
Making sure that your Plano heating system is in good working order will allow it to work more efficiently and last you much longer. The professionals at Cody & Sons offer heating maintenance and tune up services designed to do just that. We are available to come out to your place in Plano and check on your heating system and do anything maintenance or tune ups to keep it in tip-top shape.
Heating Inspections in Plano
It is important to have the heating system inspected once a year to insure optimal efficiency and safety. Gas furnaces need the heat exchange and CO2 detector inspected regularly to protect you from devastating, if not fatal results. Electric air handlers and heat pumps need attention as well. The wiring can overheat causing issues that can be prevented by maintenance inspections. Heat pumps need the refrigerant levels and coils checked for peak performance. We offer a variety of preventative heating maintenance in Plano to fit your needs. Call us today to set up a maintenance plan with one of our Plano heating experts.
Plano Heating Maintenance Agreements
At Cody & Sons, we offer preventative maintenance agreements that are a convenient opportunity to have your Plano heating tuned up by an industry professional. When we tune up your heater, you can trust that it is using less energy and won't need to be replaced as quickly. Like how cars need maintenance every once in a while, the same is true for your Plano HVAC system.
Call Us for Heater Maintenance in Plano
Cody & Sons is the team to turn to for your heating service in Plano. Our heating technicians are skilled and experienced in servicing all kinds of heaters and can make sure that yours is in good condition to serve you well all winter long. Reach out to us in Plano today for your heating maintenance and tune-up!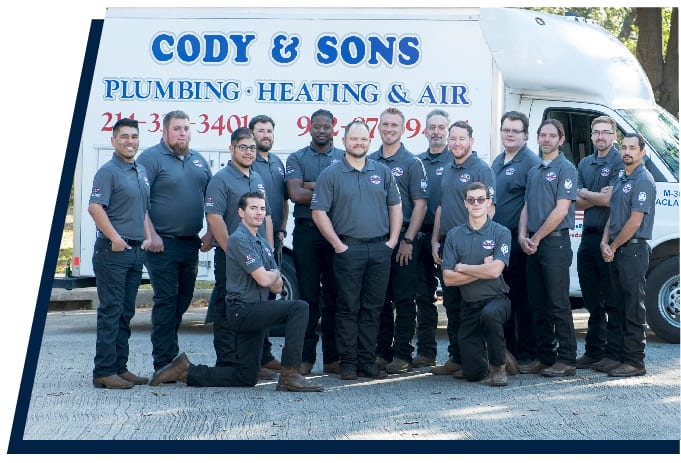 Thermostats and Zoning
The thermostat is the switch that controls your home comfort system. Our experienced HVAC team will work with you to find a thermostat that will fit your individual needs. We provide from the basic manual t-stat to a whole-home automation system thermostat that you can operate from a smart phone. These high tech thermostats are programmable to adjust your home temperature at different times throughout the day to help you maintain optimum comfort, and save money on your utility bills.
Zoning systems use multiple thermostats to control the conditioned air to certain areas only when needed. If installed properly, zoning systems can help save on energy consumption and drastically lower utility bills. You can depend on our trained technicians to install a zoning system that will update your home to maximum efficiency.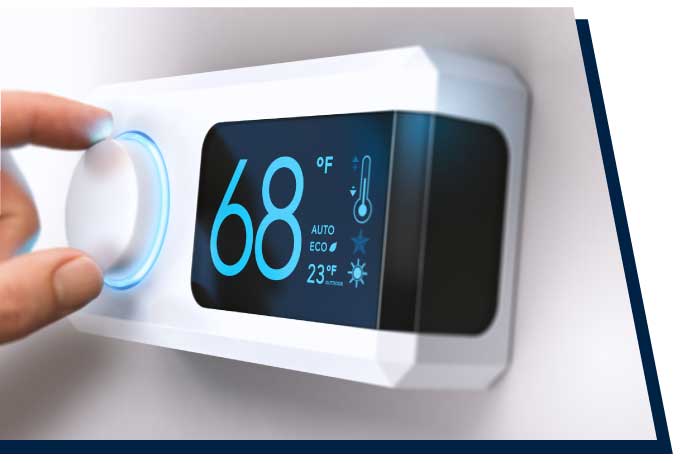 Our Guarantees
Upfront Pricing Guarantee
We Value
Your Home Guarantee
We Value
Your Safety Guarantee
We Value
Your Time Guarantee
We Value
Your Satisfaction Guarantee

Open 24/7 Call Now

(469) 225-9527