Moving out on your own for the first time can be an exciting, yet stressful, experience. There's much to get done before moving, you might not have even considered what you should do after you've unloaded all of your belongings into your new place. Don't forget these six things on your move-in checklist. 

Call Us 24/7

(469) 672-5403
Clear faucet aerators and shower heads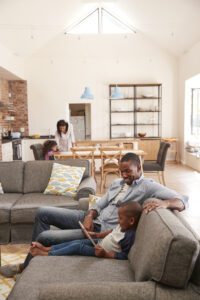 Overtime, faucet aerators and shower heads can become clogged with mineral deposits in the water. This can cause low water pressure. It's a good practice to clear these out when you first move in so everything stays running smoothly. If you notice plumbing problems as you start to settle in, don't hesitate to call our expert Dallas plumbers for help!
Check the drains for clogs
You should do this before moving in, but if you forgot or weren't able to tour the apartment, there's no better time than now to check all drains for clogs. If your tub or sink drains are slow, try The Beast BioDrain. This environmentally-friendly drain cleaner is designed to eat through hair, oils, and soap scum. Let it sit for six hours while you unpack. If you're dealing with monster clogs in your new home or apartment, be sure to call Cody & Sons for drain cleaning in Dallas.
Change the HVAC filter
One thing you definitely don't want to miss on your move-in checklist is changing the HVAC filter is the fastest and easiest way to improve the air quality of your home. Hopefully this gets done by your landlord, but if not, filters are easy to find at your local hardware store and should be easy to install. Remember, changing your HVAC filters regularly can help you avoid unnecessary Dallas AC repairs or furnace repairs!
Vacuum air vent grills
You will also want to vacuum the grills on your air vents. This is a simple step that is usually overlooked. Dust can build up on the grills just as easily as filters. Be sure to vacuum this away to help get rid of dust and allergens. If your HVAC system seems extra dirty, call your local HVAC experts for duct cleaning in Dallas, so you can breathe fresher, cleaner air.
Clean the carpets
Speaking of dust and allergens, don't forget to give the carpet a thorough cleaning. This should be done by your landlord, but it doesn't hurt to give an extra pass over with a vacuum cleaner.
It's also a good idea to get a carpet cleaning brush, like this one. Use this to pick up any stubborn hair and fur that might've been left behind by previous tenants. Unfortunately, our home service pros from Cody and Sons can't clean your carpets – but we can clean your drains, HVAC system, and ducts!
Seal cracks and gaps in windows and doors
Save yourself some money on energy costs by sealing up your windows and doors. Overtime, these openings can become weathered down, causing cracks or gaps to allow air flow. Not only will this cause your HVAC unit to overwork to maintain a comfortable temperature in your home, but this can also let pests in as well. Use silicone caulk and go over all the edges of the windows and door frames. 
Cody & Sons – Plano & Dallas' Home Service Pros
Your move-out and move-in checklist probably feels five miles long by now, but your future self will thank you for going the extra mile to make your new house a home. Read up on more of our expert tips to learn how to maintain your home. And, when you need professional home services, call Cody & Sons for fast and friendly service.

Call Us 24/7

(469) 672-5403