It is no secret that companies hiring tradesmen are having a hard time finding applicants in today's job market. There has been a significant decline in how many young people are seeking a career in the trades. Consequently, the demand for workers in these types of jobs is skyrocketing (which means higher pay and better benefits).
Therefore, now is a great opportunity for people graduating high school who feel that a fast-paced, hands-on work experience might be right for them. Let's talk about how you can get on track to become an HVAC technician in Texas. 

Call Us 24/7

(469) 672-5403
Be 18 Years of Age
First, you must be 18 years old and have a high school diploma or GED. If you've just graduated high school, getting started as an HVAC tech is a great way to get your foot in the door. Set your sights toward building a career while earning a decent living at the same time.
Become an Apprentice
Next, you will need to shadow a professional.
In order to do this, you will need to register as an ACR Technician. No testing is required at this point in the process. Here at Cody & Sons, we are always looking for outgoing, energetic, problem-solvers who aren't afraid to learn new things. After you register, don't be afraid to start applying for entry-level positions.
Attend Training Programs
Additionally, accreditation isn't required in Texas. However, taking accredited HVAC courses is the best way to ensure that the skills you are learning are up to State Standards. Not to mention, you will be able to learn from multiple professionals in addition to networking with others in your chosen field. There are many institutions across Texas that offer courses, whether you reside in a big city or a small community.
Complete Required Hours
After completing a 2,000-hour certification program and paying a $50 application fee, you may opt to become a Certified ACR Technician. That's about 24 months of working under a licensed contractor's supervision. If you're not interested in becoming a Certified ACR Technician, then you will complete 48 months of job site experience under the supervision of a licensed contractor. After which, you can apply for your own contractor's license.
Get Certified
Finally, it is time to get certified!
Now, you will need to determine which kind of license you will test for. There are two to choose from in Texas.
A Class A HVAC license in Texas permits you to work on a heating or cooling unit of any size or energy output. It is not restricted by a system, product, or equipment of any size or capacity.
Meanwhile, a Class B license allows you to work on cooling systems up to 25 tons and heating systems with up to 1.5 million BTUs/hour.
Join The Cody & Sons HVAC Team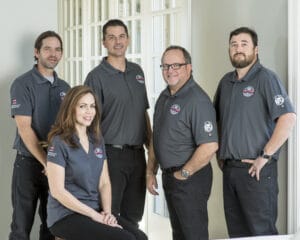 If you're interested in becoming a Texas HVAC technician, please check out our Careers page. We want candidates who are interested in personal growth. We assist our employees in that growth by providing ongoing training and education in your field.
Visit here for more information on how you can become an HVAC technician in Dallas, and throughout Texas with Service Titan.